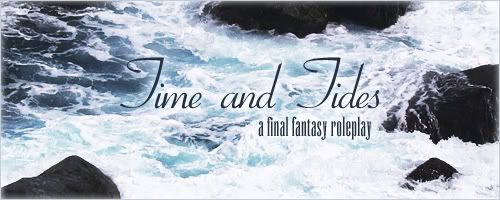 ◊ . . . back home, the skies were never this blue . . . ◊
Twenty Worlds.
Two Planets.
One Fantasy.
The Ultimate Mastermind.

What do you do when worlds collide?

How do you move forward when time and space lose meaning?

How do you go home when all you've hoped for is gone?

In a world where dreams and nightmares come to life,
All that's left is...

Survival.
◊ Game Info ◊
timeandtides is a laid-back, plot-heavy, Final Fantasy roleplay set in the world of FFIX. Characters from any Final Fantasy title are welcome, so come by and watch the newest story unfold!

|| PREMISE || TAKEN CHARACTERS || RESERVATIONS || APPLICATIONS ||
|| RULES || FAQ || SETTING ||